I want you to imagine a scenario. Put on your empathy pants, and step into one homeowner's shoes. One day, you get to thinking and do some quick measurements of your house. Heck maybe a city inspector or insurance adjuster makes the fateful discovery. The point is, to your dismay, your house, your precious house, sits dangerously low. Much lower than you had expected. The foundation was laid very optimistically and is frankly too shallow to do you much good in case of flooding. The sea level is rising, the house has settled a bit, and all it would take is one big storm to really cause some serious flood damage.
What Is To Be Done?
You certainly have options. You're certainly not short on those. You could raise the house up. Lift it on stilts, so that you have room to supplement the foundation underneath. Or, actually, you could skip the stilts and just raise the floors, if you like. Leave the frame of the house as-is, and just add more to the bottom. We'd be happy to help you in this endeavor, but unless you do the roof too, then you lose headroom. If you're not careful you'll be walking around all hunched-over for the rest of you time there.
You could also choose to just roll the dice. Good luck keeping your homeowner's insurance rates down, but what are the odds that a real, serious hurricane would hit in just the right way to mess you up? Well, this is Florida. And not exactly deep inland, either. You're in Madeira Beach, which, fun fact, is on the coast, pal. Your neighborhood looks like this: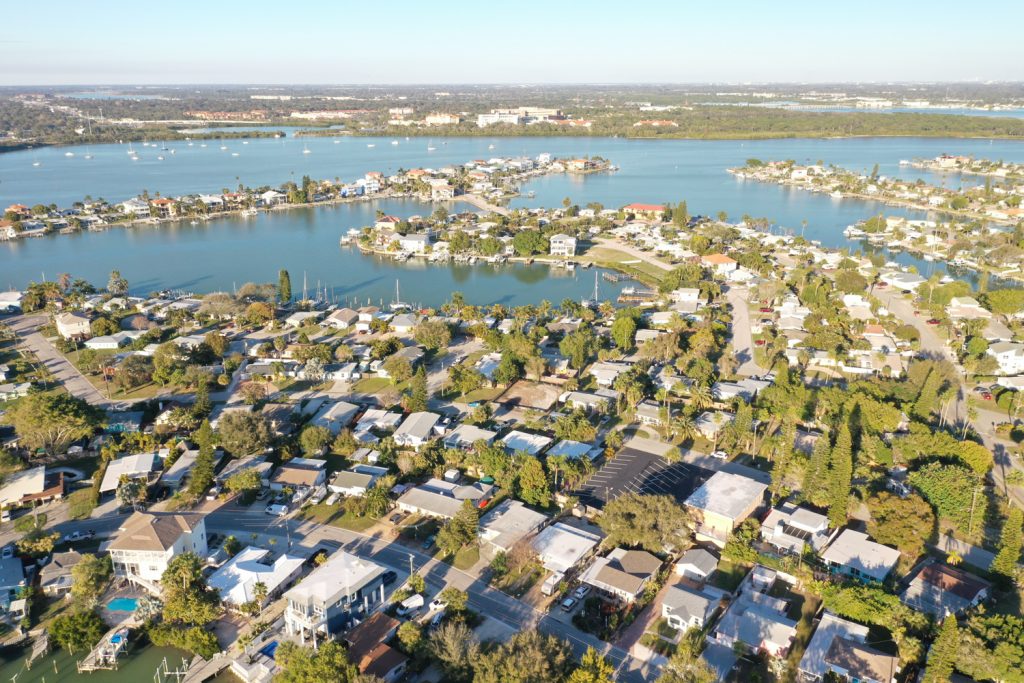 An Ounce of Preventative Demolition is Worth a Pound of Cure
None of those sound like great options, right? Well, you've got one more. FEMA is willing to help you out. They want to work with your insurance company to get this sorted out now, while the weather is nice and there's isn't a hurricane tearing through the state. An ounce of prevention is worth a pound of cure, as they say. That ounce of prevention, in this case, is to go tabula rasa – demolish the entire house and start from scratch. This is going to be a preventative residential demolition.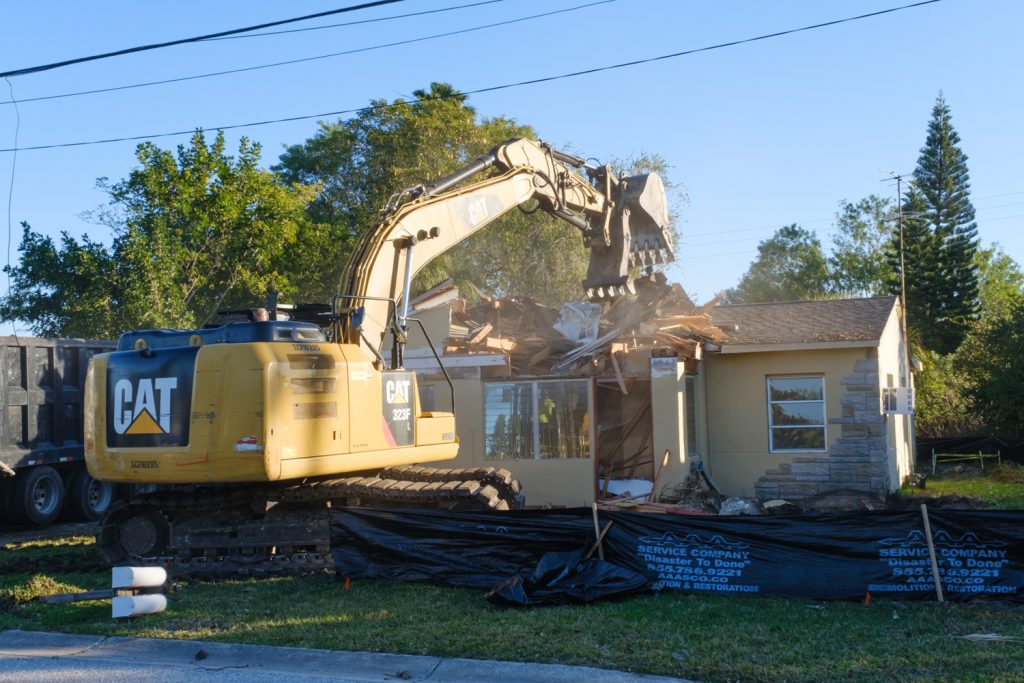 Starting Residential Demolition
The Madeira Beach homeowner in this situation gave us a call, and as soon as we got our demolition permits in order we got to work. We sent over an excavator to his house, and at 8am sharp on a chilly Monday morning we took the first bite out of the house. This residential demolition was officially underway bright and early in the morning, and easily completed by the end of the day. The excavator operator crushed the roof in, one room at a time, and then scooped all of the insulation, wood, and general mess into a rotating series of dump trucks. It's amazing to watch a residential demolition in person – you realize on a very core level that most houses are just concrete, wood, and decorations.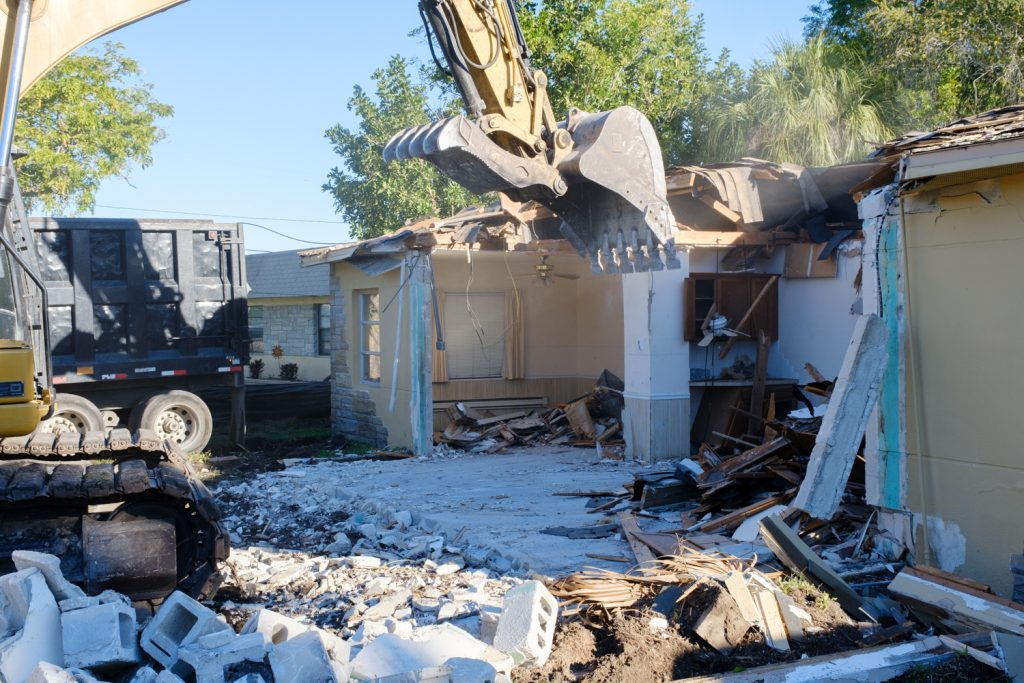 Recycling for a Sustainable and Affordable Demolition
We also make sure to have at least one "picker" on every demolition project – a guy who pulls scrap metal or other recyclables out of the debris pile with laser precision. His work allows us to keep the cost of demolition low for you, the customer, because, with every fistful of salvage, he turns garbage into gold.
The excavator operator also is careful to separate the stained carpets, wood shards, and musty insulation from the concrete. Each kind of waste is loaded into its own truck. What cannot be salvaged is sent to the landfill, but a large portion of the house still has value to those who know how to find it. And after hundreds of house demolitions, we like to think we've learned a thing or two about where to look. All of the salvageable material goes back to our recycling yard, where it is sustainably processed and kept from the landfill.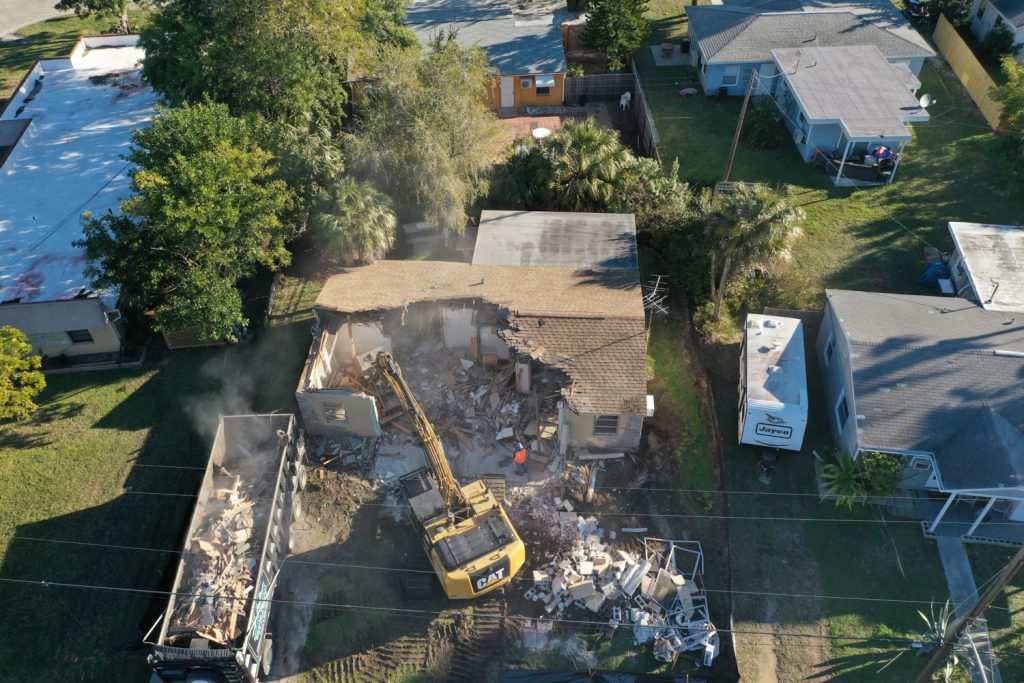 Residential Demolition, In Conclusion
Residential demolition is one of the more satisfying types of projects that we get to work on. There is a little bit of everything here for the discerning demolition contractor: cracking windows, tearing out walls, pulling up foundations, and leaving a clean, clear lot behind you when you are done. And you can finish a whole house in a day or two if you know what you're doing. The whole process is a joy, from start to finish, and it's a joy we'd love to share with you. If you have a pool, shed, house, or commercial building that you'd like us to demolish, please do not hesitate to reach out to us. We will send an estimator to your site, so that we can give you a fair and honest quote the first time. So what are you waiting for? Let's smash something together!