Kitchens are one of the hardest things in your home to update. It's usually not as simple as putting on a fresh coat of paint or some fresh throw pillows. If kitchen demolition is on your radar, be aware that it can become very complicated in a hurry. You have to think about cabinets, countertops, sinks and appliances… not to mention the floor. We'll get to the floor, trust me.
However, you don't have to be in this alone. No matter how involved or hands-off you want to be, AAA Service Company has your back. We are ready to help you remove the old and bring in the new. And while kitchen demolition might sound fun and conjure images of sledgehammers, there's more than a few places where you can run into trouble. So let's talk about what's involved, and where we can help!
What To Do Before We Arrive
There are a few things you will want to do to prepare before for your kitchen demolition before our crew arrives. Taking an hour to get this out of the way in advance will make the whole process smoother for all parties involved. We don't want to be tripping all over each other.
Hide All Your Good China
This goes for anything else you want to keep as well. Tupperware, leftovers, fresh produce, whatever you can imagine. If it's not bolted to the wall and you don't want it to go in the dumpster, odds are you want to move it to another room.
Shut Off The Utilities
Before you go ripping your stove out of its home, or rolling your refrigerator away, make sure that you have disconnected their water and gas lines. And that's not even mentioning electricity, which you need to turn off for the entire working area. We have linked guides for how to disconnect all of the relevant utilities below this step. You certainly don't want a leak, a spill, or a shock from either one of these in your kitchen. So do your diligence and check twice before moving on.
How to Turn Off the Gas to a Stove at the Shutoff Valve
Refrigerator Water Line Shut-off Valve: Where to Find It
How to Shut Off the Water Supply for a Kitchen Sink | Hunker
How to Safely Turn off Power at Your Electrical Panel
Remove the Appliances
Once you have cleaned out the small objects and cut the utilities, it's time to tackle the big ones. If you're getting a new stove, fridge, or microwave, then this step might not apply to you. Again, the goal here is to remove anything you want to keep from the work zone so it doesn't get damaged. If your old stove is basically garbage to you, then let us know and we will throw it in our roll-off dumpster with the rest of the waste. And if you need an extra set of hands to get an appliance out of your kitchen, we can help with that, too.
What We Do Once We Arrive
You're all prepped. You've gotten your kitchen clear and ready for what comes next. That's amazing. Sit down, catch your breath, and clear your head. From here on out, we the professionals have you covered.
(Optional) Remove the Appliances
Whether you were having trouble moving your "keeper" appliances, or if you have junk appliances you are itching to get rid of, this is where it will happen. Our guys will help you drag your old ones out, and either load them on a truck or into one of our roll-off dumpsters (which then gets picked up by a truck).
Remove the Counters (and the Sink)
Countertop removal comes next. But to get to it, you need to pull the sink out first. Depending on whether it's a drop-in or an under-mounted sink, the process will vary. If you want to keep it, we won't stop you. But if the kitchen sink is getting an upgrade too, then the old one gets a free trip to the roll-off dumpster.
That brings us to the counters. It sounds fun to just smash them, but realistically it's usually easier to unscrew them from the cabinets and pry them up section by section. If the countertops are in good shape, you can always recycle them with Habitat for Humanity ReStores. Some locations even offer free pickup! Otherwise, they go in the dumpster just like everything else.

Remove the Base Cabinets
Now we're on to the base cabinets. Your first task is to pry up the trim, since it will only get in your way. Then it's time to remove the cabinet doors. Once you have those clear, you can take a crowbar or something similar and start prying the cabinets away from the walls. They are very likely held in with simple nails. Once the cabinet sections are free, you want to remove those nails so they don't have a chance to hurt anyone. Same advice on recycling applies here, if you are inclined to help out Habitat for Humanity. If not, it's dumpster time again.
Remove the Wall Cabinets
This is where it's good to have a team. Wall cabinets are heavy and bulky, and held into the walls by many screws. So the idea is that for each section, one person strategically unscrews while one or two (or three, depending on weight) people support the cabinet from below. Once we liberate a section, it either goes in the donate pile or the dumpster. Then we begin the next section. Repeat until complete.
Remove the Backsplash
The backsplash is where we get to have fun with the smashing. We just go in with a hammer and chisel, or really any flat implement, and start chipping it away. When it's all done, we sweep up the shattered remains of your backsplash and get ready for the floor.
Tear Up the Flooring
If you are re-doing the flooring as well, then this is a stage where you will almost definitely want the help of a professional. Depending on what type of flooring you have, this step could require anything from a screwdriver to a heat gun to a ride-on tile scraper. But don't worry – we'll figure out those details during our consult and bring the right tools for the job.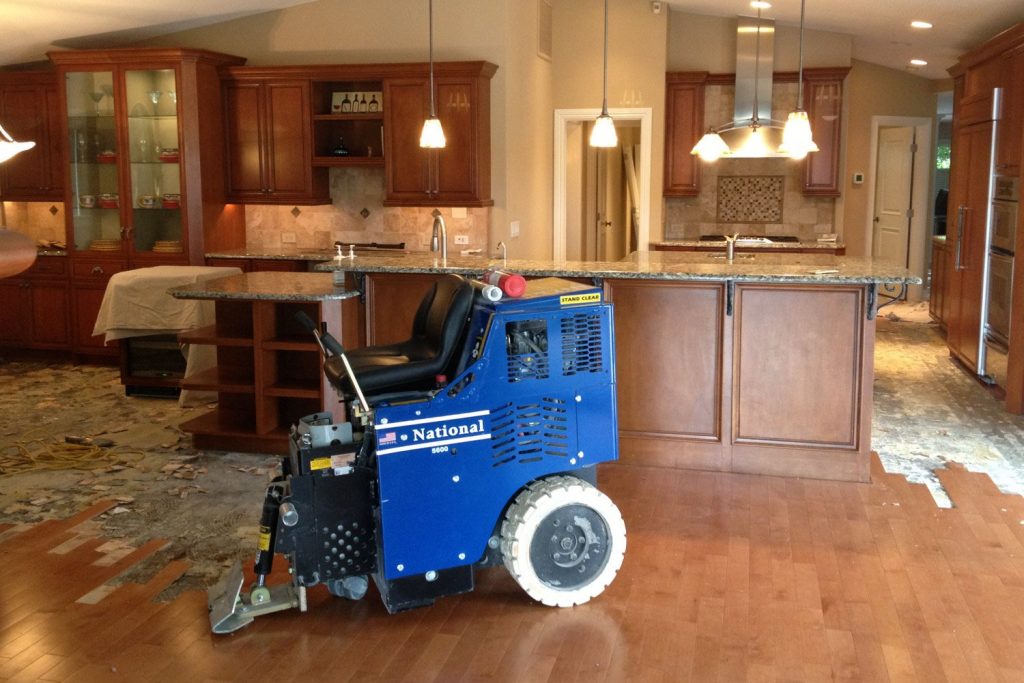 Conclusion
With all that accomplished, your kitchen should be clean and clear, ready for the remodel of your dreams. And with the help of AAA Service Company, you probably barely broke a sweat (unless you took a shot at backsplash chiseling!). And if you're still in the research phase, make sure to reach out to us – we'd love to help you with your kitchen demolition and remodeling.
Previous Customers Have Said…
"Used AAA Service Company for demolition of existing kitchen and tile flooring. Reasonable quote, prompt service and courteous crew. They clean up really well and leave the area ready for new construction. I will highly recommend their service and will use them again for future needs."
"I hired AAA to take out the tile in my bathroom and laundry room and also pull up the glued down wood floor in my kitchen. From start to finish this company is extremely professional. I gave them the information over the phone with room dimensions and photos and they emailed me a proposal within minutes. They clean up all the areas and hauled away the debris. I highly recommend this company."
"Marlon and his team saved us! My wife and I had arranged to have some renovations on our kitchen and I tried to remove the floors myself which turned out to be much more difficult than I had planned. We had a deadline to have the floors out in less than a week! We called Marlon's team and our floors were out in just a few days! Thanks guys."