When I say "Chinese restaurant", what do you think of? Do you think of one of those strip mall shops, your local hole in the wall,? The kind with three benches, a counter, and a very faded menu? Or you do you picture an extravagant Hong Kong style restaurants, with fancy chairs and Lazy Susan's and a menu longer than you could ever dream of?
Increasingly, it seems that the second kind is going out of style. At the very least, one of them did. We would know: we demolished it.
The Reason for the Smashing
Once a thriving and successful dinner destination, the restaurant had ultimately grown beyond its means and its demand. And while they bragged about their three unique dining rooms, the reality was that the electric bill was skyrocketing and they could only afford to cool one of the dining rooms at a time during the summer. Their kitchen was massive and state of the art, but it was almost too big for its own good. Operating and maintaining all of the fridges, all of the stoves, all of the freezers, was a heavy burden for them to carry.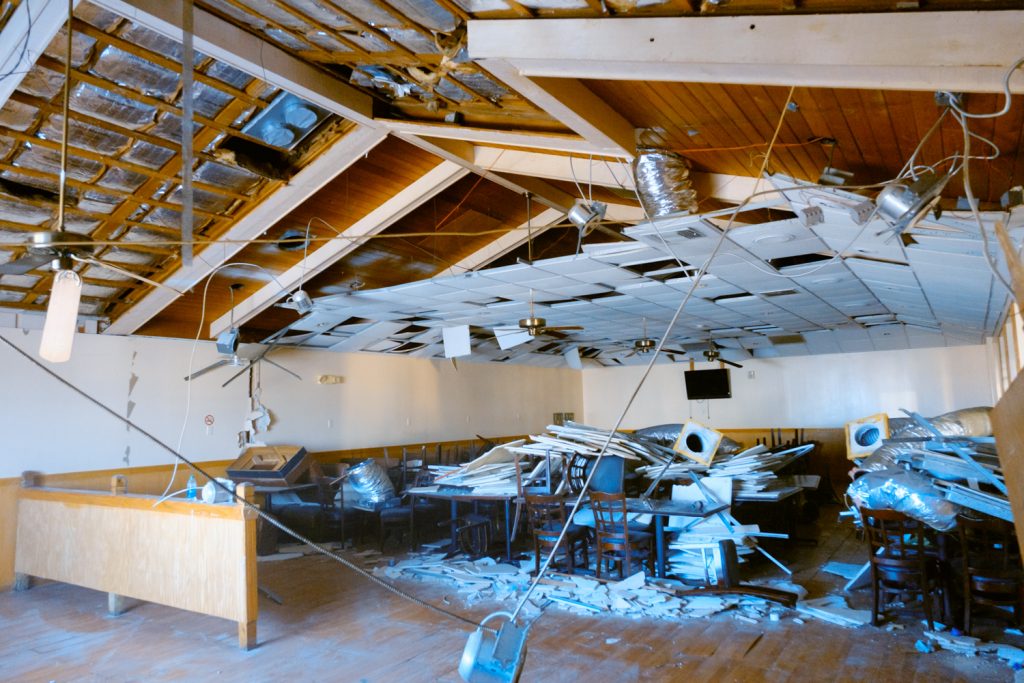 And so the principal restaurant closed. The owners at first tried to rent the facility out to other ambitious upstart restauranteurs, but they too encountered these same difficulties. Each promising start, one after another, came to the same conclusion: the building was just too big. And not in a good way that could be easily renovated, either. Eventually, the promising starts dried up and the restaurant sat abandoned. When it finally became clear that no new prospects were coming, the owners decided to demolish and start over.
Commercial Restaurant Demolition
An under-appreciated part of demolition is the handiwork that goes into a project before all the smashing starts. First, depending on the history of the building or local laws, an asbestos crew might come through to test the structures. If they find anything, they contain it and remove it with the utmost caution and safety. Then city water, gas, and electric crews come in and disconnect the structure from the grid. FINALLY, after all that is complete, our crew comes in.
The demolition crew salvages anything worth keeping and strips as much recyclable metal from the building as they can. With a little bit of time on the front end, they save a huge amount of time and the effort that would otherwise be spent picking bits of copper pipe from the trash debris. Plus, sometimes we find really cool salvage pieces that we can later sell.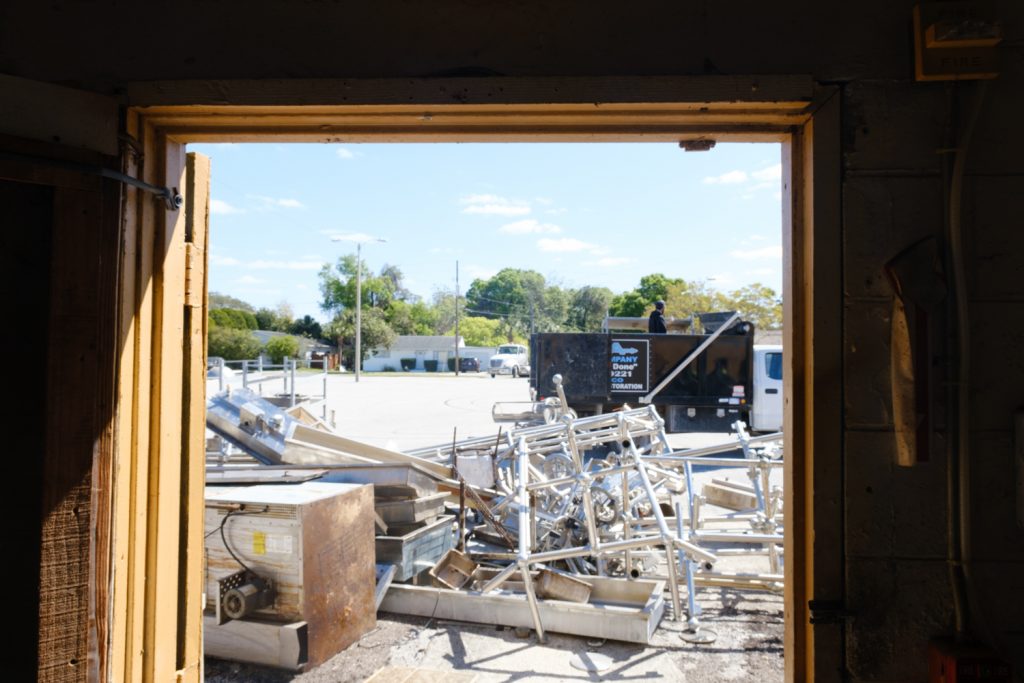 Finally, it's time to Demolish
Then, and only then, the heavy machinery can begin the demolition for real. In this commercial demolition, he simply moved through the building section by section, smashing everything in sight. He tore down the roof in each section, pushing it into a pile of debris on the ground. He followed this up by pushing the walls into that same pile. Then, with his massive claw bucket, he pounded the debris piles to break them up into small pieces. As he sifted the pile for any remaining metal pieces, An eagle-eyed worker stood ready to jump in and pick them out.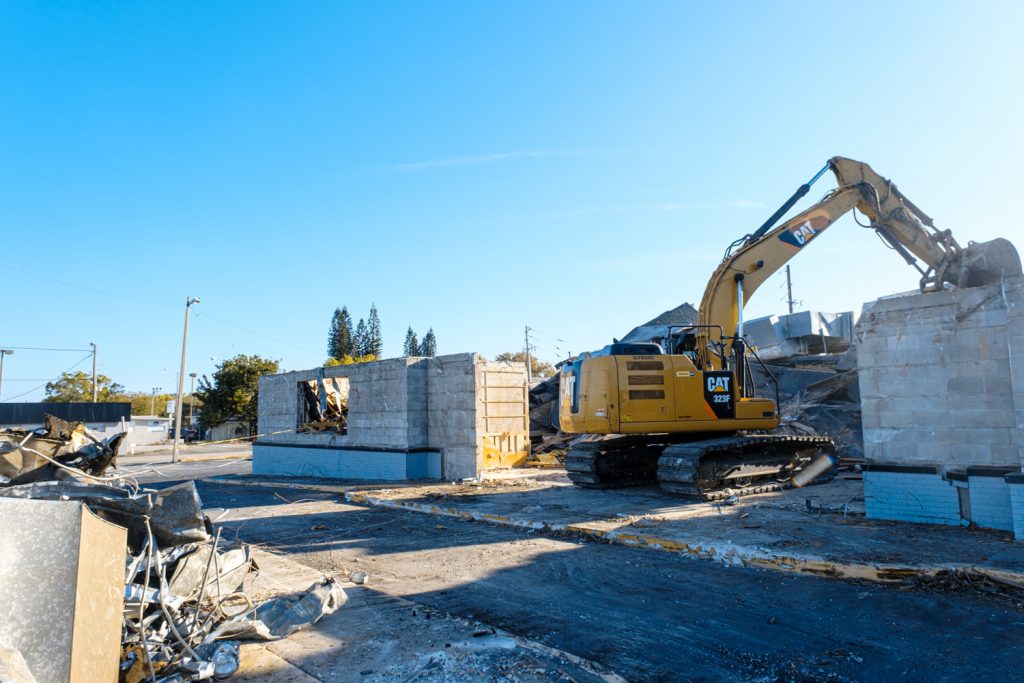 And so, room by room, the Chinese restaurant came down. We take pride in having clean trash, and this job was no exception. Metal and concrete made their way back to our recycling yard, while wood and other debris set out for the landfill. When we left, nothing by a bare patch of earth remained to commemorate the passing of what was once one of New Port Richey's premiere Chinese establishments.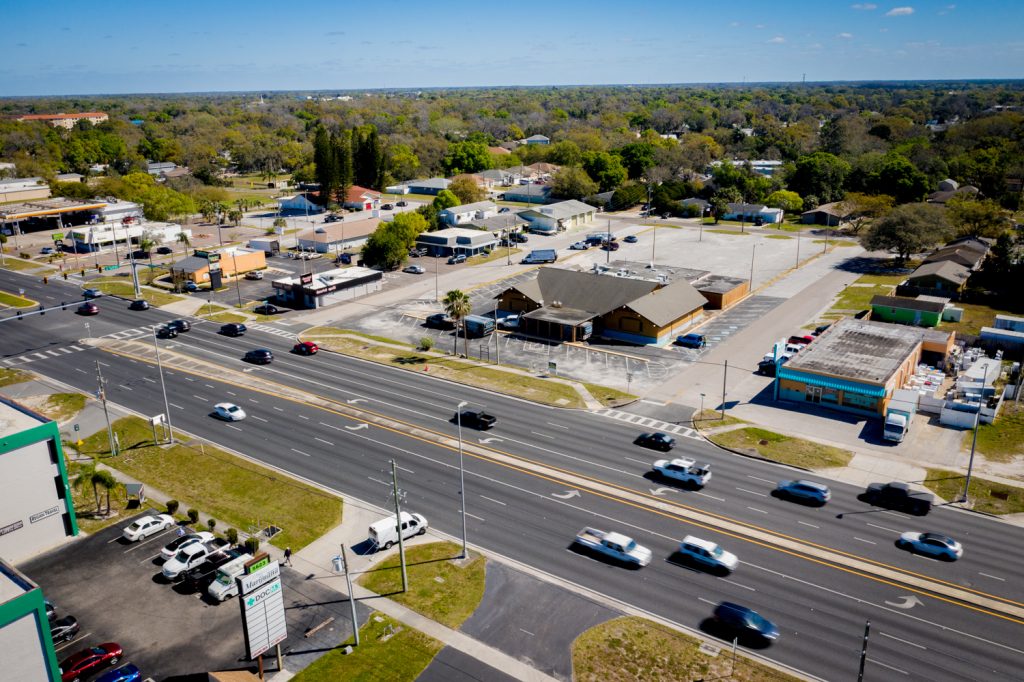 If you or someone you know need demolition services in Pinellas, Hillsborough, Polk, or Sarasota counties (or beyond), don't hesitate to reach out to us. We would be thrilled to send a professional estimator out to you, so that we can give you a fair, honest, and accurate estimate the very first time.