Demolition doesn't have to be a scorched-earth, "leave no structures behind" process. Partial and selective demolition is a surprisingly large part of our business. Our crews often find themselves removing part of a sidewalk, or chipping the top layer off of a commercial pool, or cutting a garage in half. This time, we helped prep Leaders Furniture of St. Petersburg for a major redecoration.
For this fairly straightforward job, the interior of the store was to be left alone. The display room was frankly gorgeous, and certainly didn't need any assistance from us. Where our commercial demolition skills got involved was the front of the store. The small sidewalk connecting the parking lot to the front entrance was high on our chop list. But first, we had to cut out the soffit underneath the decorative overhang. The store featured a large overhang with spotlights to really make the furniture pop and light up the outdoor patio area at night. We were called in to strip that down, presumably so it could be updated and built back better. That same logic went for the iconic sign as well.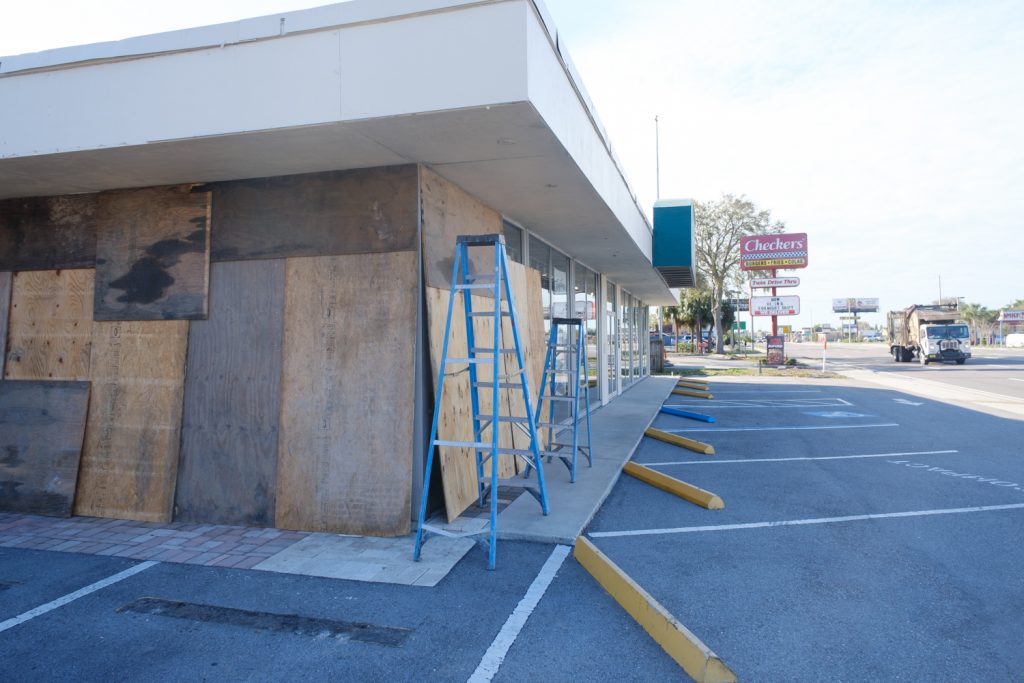 First, Place Construction Fencing
Once we had our marching orders, the crew wasted no time getting to work. The first step in this commercial demolition project was to erect a construction fence around the area to protect customers from accidentally wandering into the area of the building under active demolition. Our fencing is modular and easy to install or adjust. That meant we could easily and continually adjust it so that we protected the area we needed to work in while still allowing customers access to the store with little inconvenience.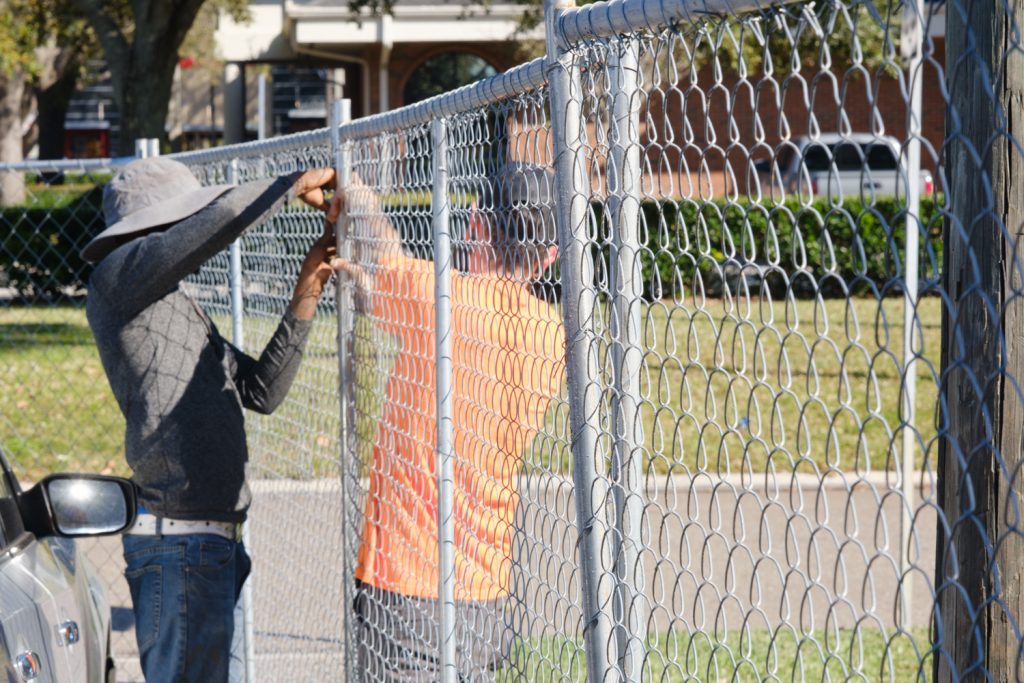 Segmenting the Soffit
Then, with a scissor-lift and his favorite demolition saw, the crew supervisor set to work segmenting the soffit for easy removal. The underlying structure was a rigid, durable metal framework. Simple, clear, easy to work around. But the surface facing the elements was a bit more gnarly. Essentially, if you can visualize 3-4 inches of plaster held together with razor-sharp chicken wire, you can get a pretty good sense of what we had to work with. It's heavy, it's sharp, and it does not like to come apart. That durability is excellent for construction, but very frustrating for demolition crews. Nonetheless, it was no match for experience, skill, and power tools.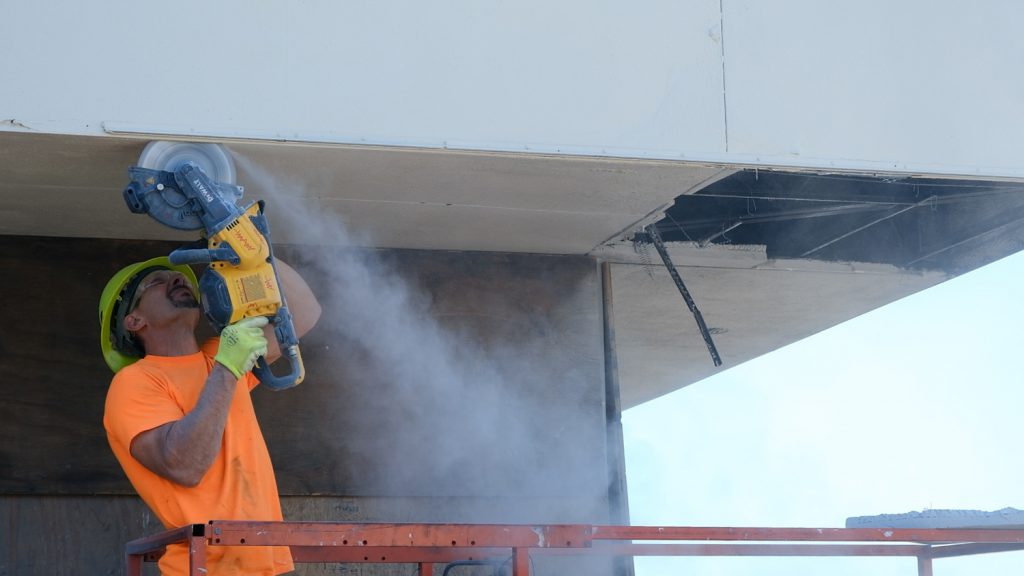 Concrete is Easier with Heavy Machinery
Next came the sidewalk directly underneath. The sidewalk had not been cut at regular intervals to begin with, but had instead been poured as one big slab. So the first task was to cut it into segments so it could be more easily separated. That completed, the crew started with a jackhammer, breaking the sidewalk into pieces that could be carried away by hand. But then, one of our other jobs completed early and a skid steer was freed up unexpectedly. It was quickly carried over to Leaders Furniture, where it completely changed the game. Where the crew had been laboriously breaking and moving small chunks of concrete by hand, they could now mechanically pry up and haul away huge sections in mere minutes. This hugely accelerated the conclusion of the project. Soon, no sidewalk remained at all.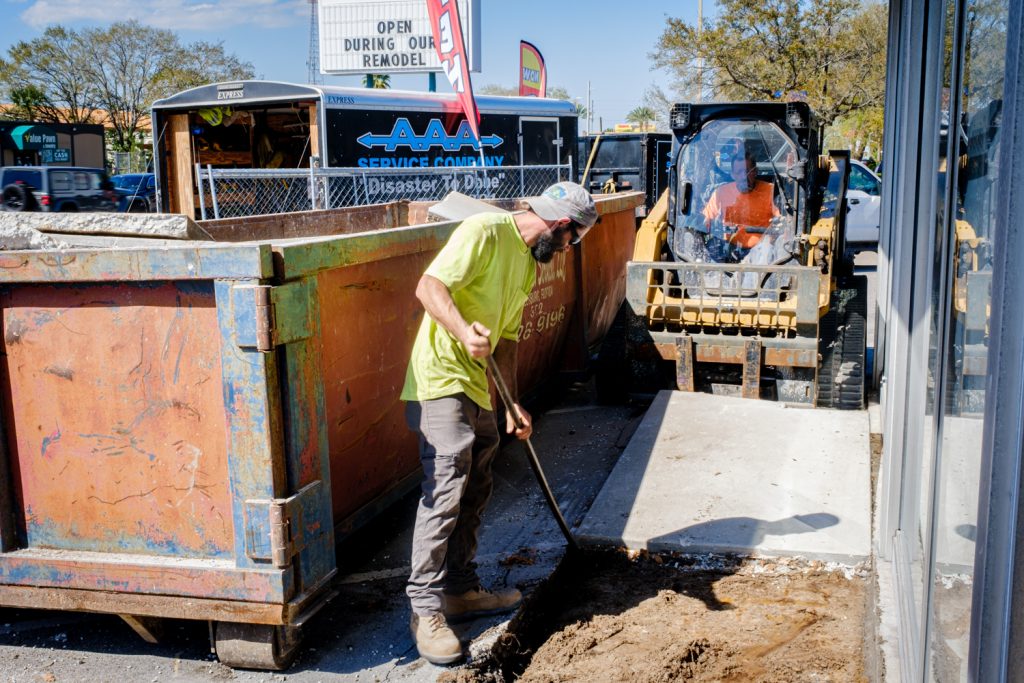 Conclusion
Selective and partial commercial demolition are just as much a part of our work as total building removal. In this case, what the client wanted was a clean cut and a skilled hand, not a bulldozer. We happily delivered.
If you, or someone you know, is in search of a clean cut and a skilled hand for any commercial or residential demolition project, please don't hesitate to reach out to us. We will send a professional estimator out to you, so that we can deliver a fair, accurate, and honest quote the very first time. So what are you waiting for? Let's demolish something together!